All flare flange clamps of 4-bolt dimensions are the same to SAE J518 / ISO 6162 standards, the difference is connection way:  Flare flange system is used for the deburred tube end is flared to 37°, An insert, soft sealed by an O-Ring, is located into each pipe end. By tightening the flanges together, a soft sealed, high-pressure tube connection is made. 
Material of Flare flange clamps and couplings:
Carbon steel C45; Stainless steel 304, 316, or 316L.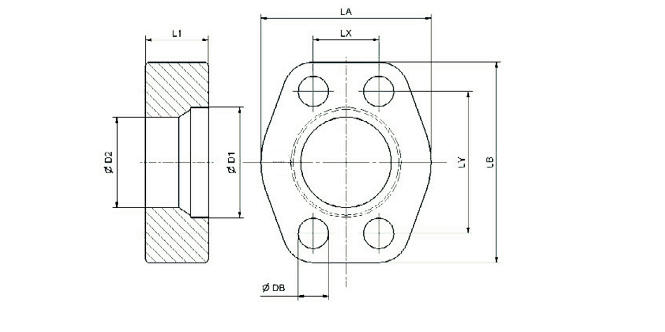 SAE 3000 psi flange flare clamps dimensions
Part No.
Size Inch
D1
D2
L1
LA
LB
LX
LY
DB
Weight (Steel)
kg/1 piece
FFC316
1
46
38.5
24
59
70.5
26.2
52.4
11
0.3
FFC320
1 1/4
51
42.5
22
73
80.5
30.2
58.7
11
0.46
FFC324
1 1/2
61.5
50.5
25
83
94.5
35.7
69.9
13.5
0.68
FFC332
2
71.5
60.5
33
97
101.5
42.9
77.8
13.5
0.98
FFC340
2 1/2
85
75.5
44
109
115.5
50.8
88.9
13.5
1.63
FFC348
3
102.5
90.5
50
132
135
61.9
106.4
17
2.79
FFC364
4
127.5
115.5
35
152
162
77.8
130.2
17
4.25
FFC380
5
152.5
125.5
45
181
184
92.1
152.4
17
4.68
SAE 6000 psi flange flare clamps dimensions
Part No.
Size Inch
D1
D2
L1
LA
LB
LX
LY
DB
Weight (Steel)
kg/1 piece
FFS616
1
46
38.5
24
70
81
27.8
27.8
13
0.53
FFS620
1 1/4
51
42.5
30
78
95.5
31.8
31.8
15
0.92
FFS624 
1 1/2
61.5
50.5
35
95
112
36.5
36.5
17
1.54
FFS632
2
71.5
60.5
40
114
133.5
44.5
44.5
22
2.44