The welding process for SAE weld flanges can vary depending on the specific material, application, and SAE standard being used. However, in general, the welding process for SAE weld flanges involves the following steps:
1.Material Preparation:
Clean the SAE weld flange and adjoining components thoroughly to remove any surface contaminants like oil, grease, dust, or rust.
Use appropriate cleaning methods, such as degreasing, sandblasting, or solvent cleaning, depending on the material and the condition of the surfaces.
2.Selecting the Welding Technique:
TIG (Tungsten Inert Gas) Welding:
TIG welding is commonly used for welding SAE weld flanges made of stainless steel, aluminum, or other non-ferrous materials.
It offers precise control over the welding process and produces high-quality welds with minimal spatter.
TIG welding requires skilled operators due to its manual nature.
MIG (Metal Inert Gas) Welding:
MIG welding is suitable for SAE weld flanges made of carbon steel or other ferrous materials.
It is a semi-automatic process that uses a continuous wire electrode, making it faster than TIG welding for certain applications.
MIG welding is relatively easier to learn, making it more suitable for less experienced welders.
3.Welding Equipment Setup:
Select the appropriate welding machine and welding consumables based on the chosen welding technique and the material being welded.
Set the correct welding parameters, such as welding current, voltage, wire feed speed, gas flow rate, and shielding gas composition, to achieve optimal weld quality and penetration.
4.Welding the Flange:
Position the SAE weld flange and adjoining components in the desired alignment using clamps or fixtures to ensure proper fit-up and joint preparation.
Maintain a stable arc during welding, and ensure that the welding torch or electrode follows the joint geometry and moves consistently along the weld path.
Control the travel speed and heat input to achieve proper fusion and avoid overheating, which can lead to distortion or metallurgical issues.
5.Post-Welding Inspection:
Inspect the completed weld for defects such as cracks, porosity, lack of fusion, or other discontinuities that could compromise the weld's integrity.
Use inspection methods like visual examination, liquid penetrant testing, or radiographic testing as needed.
Address any defects found through proper repairs or rework as per the applicable welding standards and procedures.
6.Testing and Quality Control:
Depending on the application and requirements, SAE weld flanges may need to undergo non-destructive testing (NDT) such as ultrasonic testing or magnetic particle testing to verify weld quality and structural integrity.
Conduct additional quality control measures, such as dimensional checks and surface finish evaluation, to ensure the weld flange meets the specified requirements.
7.Surface Finishing:
After successful welding and testing, perform any required surface finishing to meet specific project requirements or aesthetic considerations.
Use grinding, sanding, or polishing techniques to achieve the desired appearance and smoothness of the welded surfaces.
SAE Flare Flange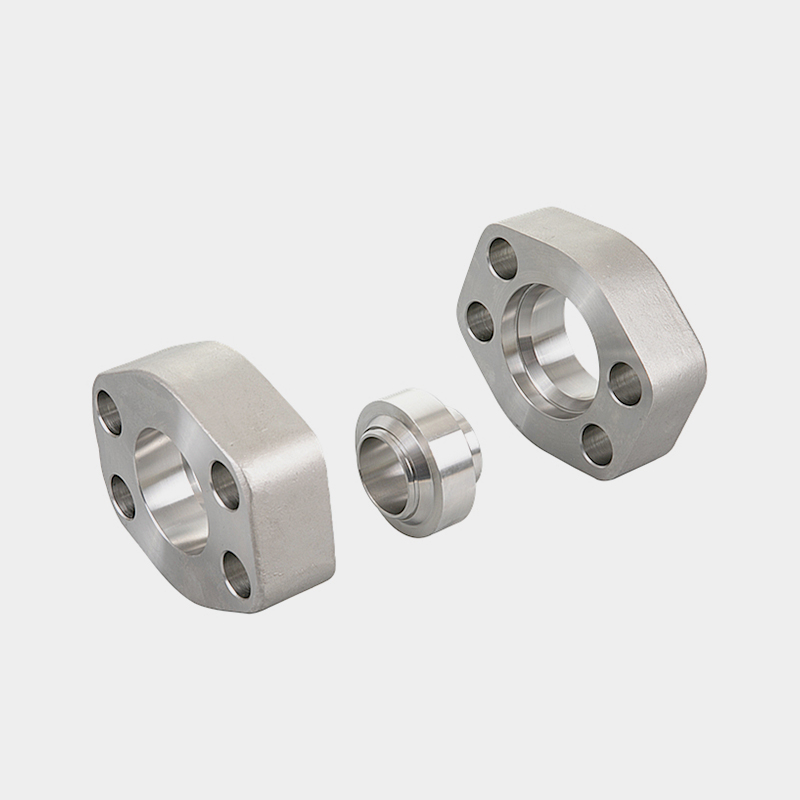 All flare flange clamps of 4-bolt dimensions are the same to SAE J518 / ISO 6162 standards, the difference is connection way:  Flare flange system is used for the deburred tube end is flared to 37°, An insert, soft sealed by an O-Ring, is located into each pipe end. By tightening the flanges together, a soft sealed, high-pressure tube connection is made. 
Material of Flare flange clamps and couplings:
Carbon steel C45; Stainless steel 304, 316, or 316L.