Safety is of utmost importance when using DIN 1478 turnbuckle jaws, especially in industrial and structural applications. Here are some key safety considerations to keep in mind:
1.Load Capacity Assessment:
Ensure that the calculated load on the turnbuckle jaw does not exceed its specified rated capacity, which is typically indicated by the manufacturer. Overloading can lead to premature wear, deformation, or catastrophic failure. Employ engineering calculations or load testing when necessary to determine the applied loads accurately.
2.Proper Sizing and Selection:
Selecting the correct size and type of DIN 1478 turnbuckle jaw is crucial for safe and efficient performance. Consult engineering standards and guidelines to determine the appropriate size based on the expected load, thread diameter, and other relevant factors.
3.Routine Inspection and Maintenance:
Implement a regular inspection schedule to detect signs of wear, corrosion, or damage. Professional personnel should visually inspect all components, paying close attention to threads, bodies, and end fittings. Replace any compromised parts promptly to prevent accidents or structural instability.
4.Correct Installation Procedures:
Adhere to manufacturer-recommended installation procedures, including prescribed torque specifications for fasteners and end fittings. Proper installation ensures the turnbuckle jaw can function as designed and minimizes the risk of component failure.
5.Thread Engagement Verification:
Confirm that both ends of the turnbuckle jaw are threaded in sufficiently to create a secure connection. Inadequate thread engagement can lead to sudden and unexpected disconnection, causing serious safety hazards.
6.Alignment Considerations:
Ensure proper alignment of the turnbuckle to prevent side loading, which can decrease its effectiveness and potentially lead to premature wear or failure. Misalignment can also affect the structural integrity of the connected components.
7.Prevent Jerky or Shock Loading:
Educate personnel about the dangers of sudden or jerky loading. Applying loads gradually and evenly helps to prevent shock loading, which can place excessive stress on the turnbuckle and compromise its integrity.
8.Use of Locking Devices:
In applications with vibration or dynamic forces, consider using lock nuts, lock washers, or other locking devices to prevent unintended loosening of threaded connections. This added security reduces the risk of unintentional disengagement.
9.Environmental Considerations:
Assess the environmental conditions where the turnbuckle will be used. In corrosive environments, select materials such as stainless steel or coatings that resist corrosion to ensure long-term safety and reliability.
10.Scheduled Maintenance Regimen:
Develop a maintenance regimen that includes periodic inspections, lubrication, and cleaning. Lubrication helps prevent corrosion, maintains smooth operation, and prolongs the life of the turnbuckle.
11.Document Procedures and Records:
Maintain comprehensive records of inspections, installations, and maintenance activities. This documentation is essential for compliance with safety regulations and standards, as well as for tracking the history of each turnbuckle for safety audits and analysis.
12.Training and Certification:
Ensure that personnel who work with turnbuckle jaws receive proper training on their correct use, maintenance, and safety protocols. Certify and periodically retrain employees to maintain their proficiency.
13.Emergency Response Planning:
Develop clear emergency response procedures in the event of a turnbuckle failure, including evacuation protocols and measures to safely release tension or remove loads.
14.Continuous Load Monitoring:
Consider implementing load monitoring systems, including load cells or sensors, to continuously monitor the load applied to the turnbuckle. This real-time data can help detect anomalies and provide early warnings in critical applications.
15.Expert Consultation:
For complex or high-risk applications, consult with structural engineers or industry experts to ensure proper selection, installation, and ongoing maintenance of turnbuckle jaws. Their expertise can help mitigate risks and ensure safety.
16.Timely Replacement of Worn Components:
If any part of the turnbuckle jaw shows signs of wear, deformation, or corrosion, replace it promptly with components that meet the manufacturer's specifications. This proactive approach maintains safety and prevents potential failures.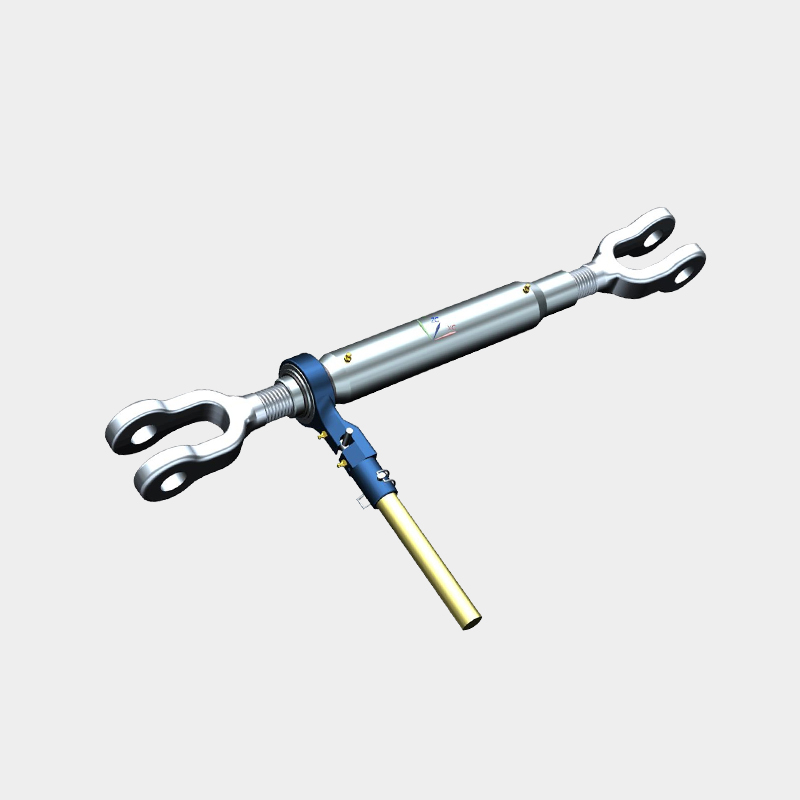 Heavy duty ratcheting turnbuckle is not different from small ratchet turnbuckle, it is not used chains and binders for sale in cargo safe secure a heavy load, should be customized ratchet binders for baler loads from 60 to 100 tons.  
Lashing towing equipment needs ratchet load binder or lever mechanisms, more load securing chain binders, and heavy-duty ratchet designed to tighten the chain for securing a load, about 9% of these are standard hardware.