What safety considerations should be taken into account when operating a tractor linkages?
Operating a tractor with linkages requires careful attention to safety to prevent accidents and ensure the well-being of the operator and those around the equipment. Here are some important safety considerations to keep in mind:
1.Implement Weight and Size: Ensure that the weight and size of the 
attached implements are within the tractor's lifting capacity and compatible with its size and power. Overloading the tractor can lead to reduced stability and compromised performance.
2.Proper Attachment: Attach implements securely to the tractor's linkages using the correct locking pins, bolts, and connection points. Verify that all attachments are properly fastened before starting any work to prevent detachment during operation.
3.Inspect Linkages: Regularly inspect the linkages, pins, and connection points for wear, damage, or any signs of fatigue such as cracks or deformation. Replace any worn or damaged components promptly to maintain safe operation.
4.Hydraulic Lines: Exercise caution when dealing with hydraulic lines. Release hydraulic pressure by moving the hydraulic control lever to neutral before connecting or disconnecting hydraulic lines. Sudden releases of pressure can result in unexpected implement movements.
5.Height Adjustment: When adjusting the height of implements using linkages, do so gradually and smoothly. Sudden adjustments can lead to abrupt shifts in weight distribution, causing imbalance or potential hazards.
6.Stay Clear of Moving Parts: Keep a safe distance from moving parts, such as linkages, hydraulic cylinders, and rotating shafts. Avoid reaching over or around these components while they are in motion to prevent entanglement or injury.
7.Operate Within Limits: Adhere to the tractor's rated capacity and limitations. Overloading the linkages can strain the tractor's frame, axles, and other components, leading to equipment damage and potential accidents.
8.Safe Maneuvering: Operate the tractor and attached implements cautiously, especially when making turns or navigating uneven terrain. Sudden maneuvers can shift the center of gravity and increase the risk of tipping or loss of control.
9.Avoid Sudden Stops and Starts: Abrupt stops and starts can cause jarring movements, affecting the stability of both the tractor and the attached implements. Use smooth and controlled actions to minimize risks.
10.Use Protective Gear: Wear appropriate personal protective equipment (PPE), such as gloves and safety glasses, to safeguard yourself from potential hazards like sharp edges, flying debris, or hydraulic fluid leaks.
11.Clear Work Area: Keep the work area around the tractor linkages clear of debris, obstacles, and other equipment. Tripping hazards or obstructions can impede safe tractor operation and pose a danger to operators and bystanders.
12.Communication: If working with other individuals or vehicles, establish clear communication methods to coordinate movements and prevent collisions. Use hand signals, radios, or other communication tools as needed.
13.Emergency Shut-off: Familiarize yourself with the location of the tractor's emergency shut-off switch. Being able to quickly shut off the tractor can mitigate potential hazards in emergency situations.
14.Safe Parking: When parking the tractor, ensure that any raised implements are lowered to the ground, engage the parking brake, turn off the engine, and remove the key. This prevents unintended movement and potential accidents.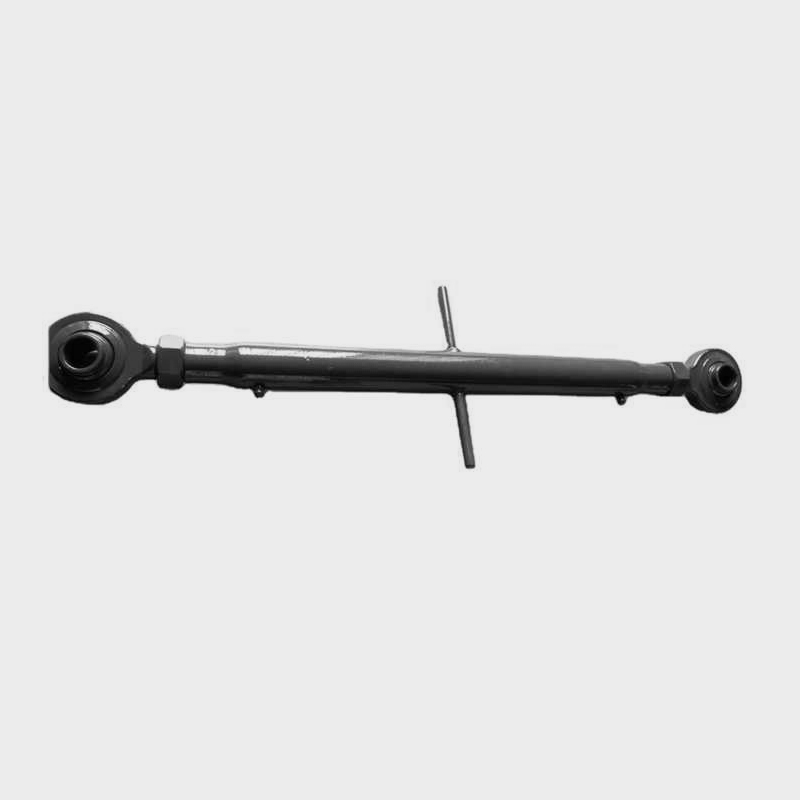 Material: Version 2005, DIN 1478
Finish: Hot dip galvanization, self-color, electroplating white Zinc
Typel: Hook & hook, eye & eye, jaw & jaw, hook & eye, jaw & eye, stub & stub end turnbuckles
Size: M8-M72
Function: Used for tractor three point hitch ( including tractor's hydraulic system, attaching points, the lifting arms, and stabilizers)