Compared to ordinary wrenches, stainless steel industrial wrenches boast several distinct features:
1. Corrosion Resistance:
Stainless steel industrial wrenches are meticulously engineered from premium stainless steel alloys, renowned for their exceptional resistance to corrosion. This resistance is attributed to the chromium content in stainless steel, forming a protective oxide layer on the surface. This oxide layer acts as a shield, preventing rust and corrosion even in harsh chemical environments. Consequently, these wrenches excel in applications where traditional wrenches would succumb to corrosion, ensuring consistent performance over extended periods.
2. Strength and Hardness:
Stainless steel industrial wrenches are forged to precise specifications, ensuring optimal strength and hardness. This manufacturing precision results in wrenches capable of withstanding immense torque and pressure without deformation or breakage. Industries requiring heavy-duty applications, such as automotive or industrial manufacturing, benefit significantly from these wrenches. Their robust construction guarantees reliability under intense pressure, ensuring safety and efficiency in operations.
3. Hygienic Standards:
The hygiene-grade nature of stainless steel is a pivotal factor in industries where cleanliness is paramount. Stainless steel industrial wrenches adhere to strict hygiene standards, making them indispensable in sectors like pharmaceuticals, biotechnology, and food processing. Their non-porous surface discourages the growth of bacteria and contaminants, ensuring a sterile environment. This feature not only meets regulatory requirements but also safeguards the integrity of sensitive processes, making them an industry preference.
4. Appealing Aesthetics:
Stainless steel's inherent luster and smooth finish contribute to the wrenches' visually appealing aesthetics. Industries emphasizing product presentation, such as luxury goods manufacturing or high-end construction, find stainless steel industrial wrenches indispensable. The ease of cleaning and maintenance ensures that these wrenches maintain their polished appearance even after prolonged use, enhancing the overall aesthetic of the applications they are employed in.
5. Wide Temperature Range:
Stainless steel industrial wrenches exhibit remarkable thermal stability, allowing them to function seamlessly across a wide temperature spectrum. This versatility makes them indispensable in diverse environments, from extreme heat in manufacturing processes to sub-zero temperatures in refrigeration units. Their ability to maintain structural integrity and performance in such conditions underscores their reliability in challenging operational settings.
6. Environmental Friendliness:
Stainless steel is celebrated for its sustainability and environmental compatibility. As a fully recyclable material, stainless steel industrial wrenches contribute to reducing the ecological footprint. Their recyclability not only aligns with environmental regulations but also reflects a commitment to eco-conscious manufacturing practices. This aspect resonates with environmentally conscious industries and consumers, driving the preference for stainless steel products.
7. Extended Lifespan:
The combination of corrosion resistance, durability, and high-quality construction imparts stainless steel industrial wrenches with a significantly extended lifespan. Their resistance to wear and tear ensures minimal degradation over time, reducing the frequency of replacements. This longevity not only translates to cost savings but also minimizes downtime in industrial applications. Industries seeking long-term, reliable solutions find stainless steel industrial wrenches to be an investment in operational efficiency and economic sustainability.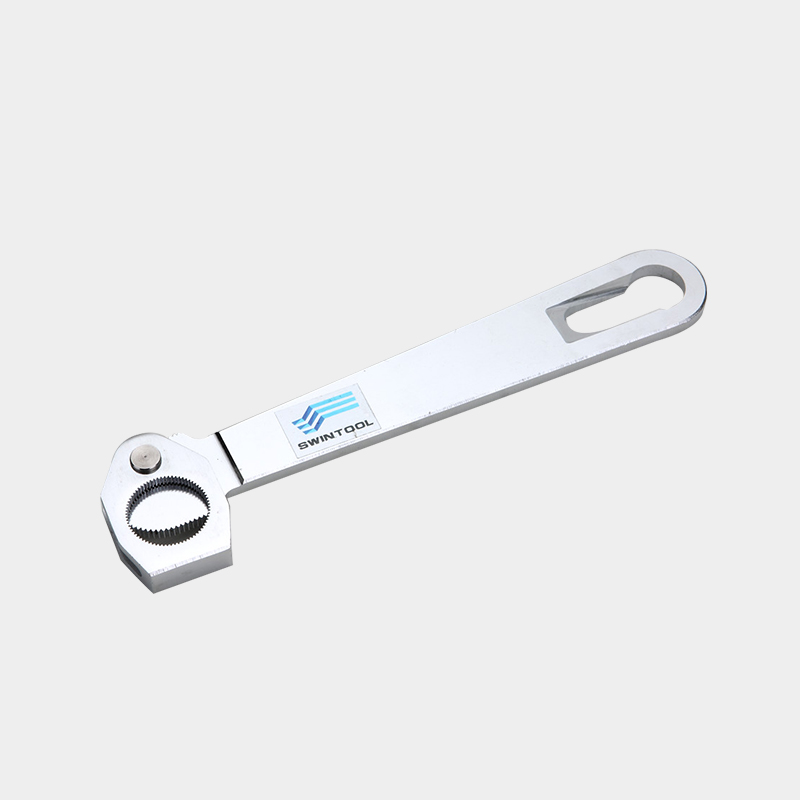 Electrode wrench is a flip jaw cap remover tool, also called a spot welding tip extractor. It is used in automotive car manufacturing workshops of spot welder electrode holders.