Testing the load capacity and fatigue resistance of turnbuckle jaw ends is crucial to ensure their reliability and safety in various applications. Several methods are employed for this purpose:
1.Tensile Testing:
Tensile testing involves subjecting the turnbuckle jaw end to an axial load applied in tension until the specimen fractures. This method assesses the material's ultimate tensile strength, yield strength, elongation, and reduction in area. By determining these mechanical properties, engineers can understand how the material behaves under tensile loading conditions, helping establish safe working limits.
2.Fatigue Testing:
Fatigue testing evaluates the turnbuckle jaw end's endurance limit by subjecting it to repeated cyclic loading. This method mimics real-world scenarios where the component experiences fluctuating stresses. By analyzing the number of cycles a specimen can withstand before failure, engineers gain insights into its fatigue resistance, crucial for applications involving repetitive stress, such as machinery and aerospace components.
3.Bend Testing:
Bend testing assesses the turnbuckle jaw end's ductility and toughness. A specimen is bent to a specific angle, and the behavior of the material, including cracks or fractures, is observed. This method helps determine the material's ability to deform under bending loads without breaking, providing valuable information about its structural integrity.
4.Impact Testing:
Impact testing measures the turnbuckle jaw end's ability to absorb sudden high loads or shocks without failure. The specimen is subjected to a rapid impact, and the energy absorbed during fracture is calculated. This method is essential for applications where the component might experience accidental impacts, such as automotive and construction industries.
5.Ultrasonic Testing:
Ultrasonic testing uses high-frequency sound waves to penetrate the turnbuckle jaw end's material and detect internal defects, such as voids, inclusions, or cracks. By analyzing the ultrasonic echoes, engineers can identify and locate these imperfections, providing valuable insights into the component's internal quality and structural integrity.
6.Magnetic Particle Inspection (MPI):
MPI is a non-destructive testing method used to detect surface and near-surface defects in ferromagnetic materials. The turnbuckle jaw end is magnetized, and magnetic particles are applied to the surface. Defects disrupt the magnetic field, attracting the particles and forming visible indications. This method is highly effective for detecting surface cracks and defects that could compromise the component's integrity.
7.Dye Penetrant Testing:
Dye penetrant testing is a surface inspection method for detecting surface-breaking defects. A colored dye is applied to the turnbuckle jaw end's surface, penetrates into cracks or defects, and is then removed. A developer is applied, drawing out the penetrant and making defects visible under proper lighting conditions. This method is particularly useful for detecting small cracks and discontinuities.
8.X-ray Inspection:
X-ray testing uses X-rays to penetrate the turnbuckle jaw end, revealing internal defects or inconsistencies in the material structure. X-ray images capture variations in density, such as voids or inclusions, providing detailed information about the component's internal quality. This method is crucial for inspecting complex internal geometries and welds in critical applications.
9.Finite Element Analysis (FEA):
Finite Element Analysis (FEA) is a computational technique used to simulate the turnbuckle jaw end's behavior under different loading conditions. By dividing the component into finite elements and applying mathematical models, engineers can predict stress distribution, deformation, and fatigue life. FEA helps optimize designs, assess structural integrity, and ensure the component meets required performance criteria.
10.Acoustic Emission Testing:
Acoustic emission testing monitors the release of stress-induced acoustic signals during loading. These signals, caused by microstructural changes or crack propagation, are detected and analyzed. Acoustic emission testing provides real-time data on the turnbuckle jaw end's structural changes, making it valuable for detecting active defects or monitoring structural health during operation.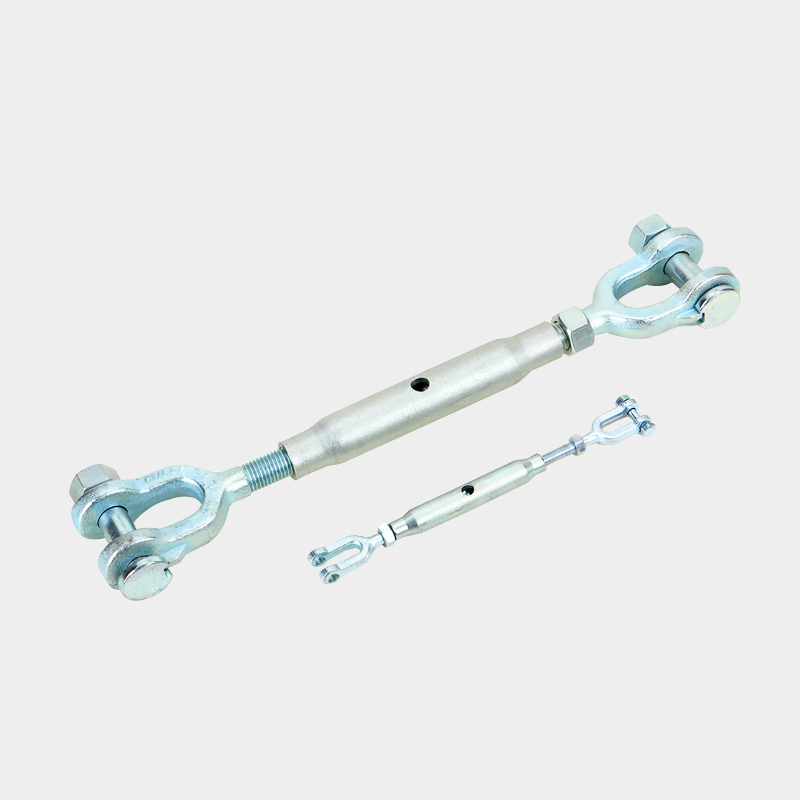 Series of rigging screws: adjustable leveling assembly  (stabilizer)  and ratchet jack  ( lifting arm),  stabilizer chains assembly, top link assembly(upper link arm), lower link arm, ball joint terminals, ball and bushes, crossbar, top hooks, ball tie-rods and swiveling tie rods, turnbuckles, etc.