In precision engineering, ensuring the optimal alignment of adjusting screw rods in complex systems is crucial for maintaining accuracy and performance. Engineers employ several techniques and best practices to achieve this alignment:
1.Precise Machining:
Precision engineering demands the use of advanced machining techniques, such as computer numerical control (CNC) machining, to fabricate adjusting screw rods with extremely tight tolerances. This ensures uniformity and consistency in the dimensions of the rods, laying the foundation for accurate alignment within complex systems.
2.Quality Control:
Rigorous quality control protocols are implemented, involving meticulous inspections utilizing high-precision instruments like micrometers, calipers, and coordinate measuring machines (CMMs). These inspections verify the dimensions, surface finishes, and geometries of adjusting screw rods, guaranteeing adherence to specified tolerances and standards.
3.Alignment Tools:
Specialized alignment tools and fixtures, designed with precision in mind, are utilized during the assembly process. These tools enable engineers to establish the correct position and angular orientation of adjusting screw rods concerning other system components. Proper utilization of these tools is paramount in achieving optimal alignment.
4.Calibration and Measurement:
Engineers employ cutting-edge laser alignment systems and interferometers for calibration and real-time measurement of adjusting screw rods. These technologies provide highly accurate positional data, allowing engineers to make immediate adjustments to achieve perfect alignment. Continuous monitoring ensures alignment stability under varying operational conditions.
5.Finite Element Analysis (FEA):
Computational tools like Finite Element Analysis (FEA) software are employed to simulate the behavior of adjusting screw rods under different loads and environmental conditions. Engineers analyze FEA results to anticipate potential misalignment issues and iterate on the design, ensuring the final product can withstand expected operational stresses while maintaining alignment integrity.
6.Thermal Compensation:
Engineers calculate thermal expansion coefficients and incorporate compensatory features into the design of adjusting screw rod systems. Thermal effects on alignment are carefully analyzed, and engineering solutions, such as thermal shields or materials with low coefficients of thermal expansion, are implemented to counteract the impact of temperature variations.
7.Precision Mounting:
Precision mounting techniques, involving specialized fasteners and mounting brackets, are applied to secure adjusting screw rods to their support structures. Engineers consider factors such as torque specifications, material compatibility, and surface finishes to prevent unintended movements that could compromise alignment. Proper mounting ensures the stability and longevity of the alignment.
8.Regular Maintenance:
Scheduled maintenance routines are established, including periodic inspections and realignments as necessary. Engineers conduct thorough assessments of the adjusting screw rod systems, identifying any deviations from the desired alignment. Regular maintenance not only corrects misalignments promptly but also prevents potential issues that could arise from prolonged misalignment.
9.Use of Self-Aligning Bearings:
In applications where minor misalignments are expected, engineers integrate self-aligning bearings into the system. These bearings have the capability to accommodate limited angular misalignments, ensuring that even under dynamic conditions, the adjusting screw rods remain properly aligned. Careful selection of these bearings is essential to match system requirements.
10.Expertise and Experience:
Experienced engineers and technicians, possessing specialized knowledge in precision engineering, oversee the entire process. Their expertise in interpreting alignment data, troubleshooting misalignments, and implementing corrective measures is invaluable. Years of hands-on experience enable them to make nuanced decisions, ensuring the highest level of alignment accuracy within complex systems.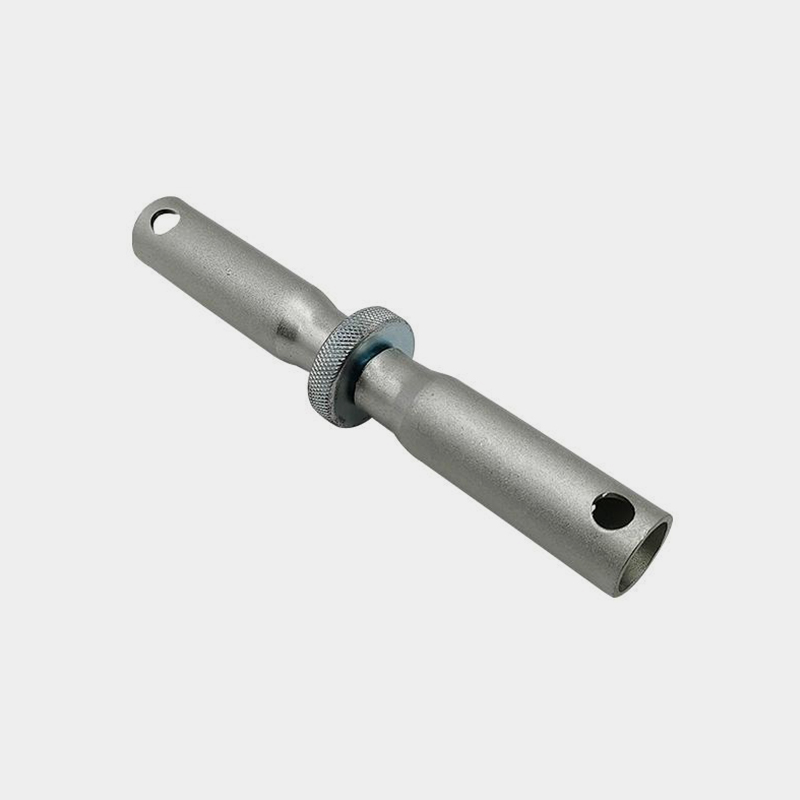 The adjusting screw rod, also known as a threaded rod or a screw shaft, is a mechanical component that consists of a long, threaded cylindrical shaft. It is often used to transmit rotational motion into linear motion or vice versa. The threaded rod typically has external threads that run along its entire length and can engage with threaded components like nuts or other threaded holes.