Temperature and pressure can significantly affect the performance and integrity of split flanges in high-temperature or high-pressure applications. Here's how:


1.Temperature Effects:
Thermal Expansion: In high-temperature environments, materials commonly used for split flanges, such as carbon steel or stainless steel, will undergo thermal expansion. This natural phenomenon causes the dimensions of the flange components to increase.
Differential thermal expansion between the flange components, gasket, and piping can lead to stress concentrations at the flange joints. This stress can compromise the seal's integrity and, over time, may result in flange distortion or gasket failure.
Engineers must account for thermal expansion when designing split flange connections. This may involve choosing materials with low coefficients of thermal expansion or incorporating expansion joints in the system.
Material Selection: The selection of materials becomes critical in high-temperature applications. Split flanges must be fabricated from alloys or materials that exhibit superior resistance to thermal degradation.
High-temperature alloys, such as Inconel or Hastelloy, are often chosen for their ability to maintain mechanical strength and structural integrity under elevated temperatures.
Gasket Behavior: Gaskets play a pivotal role in maintaining a fluid-tight seal within split flanges. However, at high temperatures, gasket materials can undergo various transformations.
Some gasket materials may soften, losing their initial compression and sealing capabilities, while others may harden, increasing the risk of leakage.
Proper gasket selection for the specific temperature range of the application is essential. Materials like graphite or PTFE (Teflon) are known for their resilience at elevated temperatures.


2.Pressure Effects:
Bolt Load: Elevated pressures necessitate higher bolt loads to create and maintain a reliable seal. Bolt tensioning must be precise to ensure that the gasket is compressed sufficiently to prevent fluid or gas leakage.
Regular torque checks and adjustments may be necessary to counteract the relaxation of bolt load over time.
Flange Design: Flange design must account for the anticipated pressure levels in the system. Flanges must be robust enough to withstand the internal pressure without yielding, distorting, or leaking.
The selection of flange facing and surface finish becomes more critical under high pressure, as any imperfections or irregularities can serve as leak paths.
Leak Paths: High-pressure differentials can exert significant force on the flange joint. In the presence of imperfections, the pressure can force fluids or gases to seek potential leak paths, compromising the integrity of the seal.
Flange facing machining and gasket quality must meet strict standards to minimize the risk of leaks under high-pressure conditions.


3.Combined Effects:
Thermal Cycling:Applications involving cyclic heating and cooling, such as industrial processes, subject split flanges to thermal cycling stresses.
The repeated expansion and contraction of flange components can lead to fatigue, potentially causing cracks or distortion and reducing the lifespan of the joint.
Creep and Stress Relaxation:Over prolonged exposure to high temperature and pressure, materials may experience creep deformation, resulting in gradual dimensional changes.
Gaskets may undergo stress relaxation, reducing their initial compression and sealing effectiveness.
Material selection, regular inspection, and maintenance are key strategies for managing these long-term effects.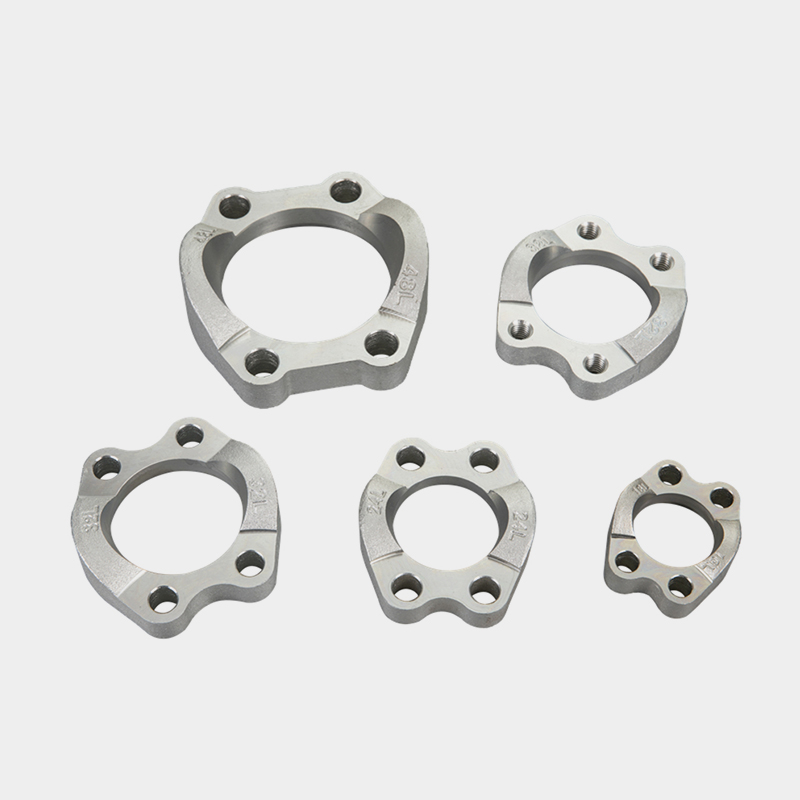 1. Working pressure of SAE code 61 series flange clamps is 3000 PSI, 3,5 MPa (35 bar) to 35 MPa (350 bar).
2. SAE Flange clamps dimensions are according to ISO 6162-1:2012. ISO Nominal Size: DN 13; DN 19; DN 25; DN 32; DN 38; DN 51; DN 64; DN 76; DN 89; DN 102; DN 127; Inch size: 1/2";3/4";1";1 1/4";1 1/2";2";2 1/2";3".
3. Material of SAE one-piece flange clamp is made of carbon steel C45, Stainless steel 304,316, or 316L.