Properly assembling and tightening SAE Code 62 flange connections is crucial to prevent leaks and ensure the integrity of hydraulic systems. Here are the steps to do it correctly:


Tools and materials you'll need:
1.SAE Code 62 flanges (matching halves)
2.SAE Code 62 flange bolts and nuts
3.O-rings (ensure they are the correct size and material for your application)
4.Torque wrench
5.Socket and wrench set
6.Hydraulic fluid-compatible thread sealant (if specified or required)
7.Clean rags or wipes

Assembly and tightening process:


1. Inspect Components:
Begin the assembly process by conducting a meticulous inspection of all components. This includes a close examination of the SAE Code 62 flanges, O-rings, bolts, and nuts. Ensure there are no visible defects, such as cracks, dents, or corrosion.
Inspect the O-rings for signs of damage or wear, such as cuts or deformities, as these can compromise the seal integrity.
2. Clean Surfaces:
Thoroughly clean the flange surfaces that will come into contact with each other. A critical aspect of achieving a leak-free seal is to eliminate any contaminants or residues that could impede the sealing process.
Utilize clean, lint-free cloths or wipes specifically designed for the purpose to avoid introducing new contaminants.
3. Lubricate O-rings:
Apply a suitable hydraulic fluid-compatible lubricant to the O-rings. This lubrication aids in the proper seating of the O-rings within their grooves and prevents damage during installation.
Avoid using lubricants incompatible with the hydraulic fluid to prevent contamination.
4. Insert O-rings:
Carefully insert the lubricated O-rings into the grooves provided on one of the flange halves. Take utmost care to ensure the O-rings sit flush within their grooves and do not become twisted or pinched during insertion.
5. Align Flanges:
Proper alignment of the two flange halves is paramount to avoid damaging the O-rings during assembly. Ensure the bolt holes are correctly matched, and the flanges align precisely.
6. Insert Bolts:
Insert the flange bolts through the bolt holes on one of the flange halves. Begin by hand-tightening the nuts on the opposite side.
Confirm that the bolts thread smoothly and are not subjected to cross-threading, which could compromise the integrity of the connection.
7. Initial Tightening:
Utilize a socket and wrench set to initiate the tightening process. Start with a few turns on each nut and gradually proceed around the flange in a crisscross pattern.
This step ensures even distribution of pressure on the flange faces, minimizing the risk of misalignment.
8. Torque Application:
Once the flanges are securely seated and aligned, transition to a torque wrench to apply the manufacturer-specified torque values. Consult the technical documentation for your specific SAE Code 62 flange size and pressure rating.
Proceed to tighten the nuts incrementally and evenly in a crisscross pattern until the prescribed torque value is achieved.
9. Verify Torque:
Post-torquing, it is essential to revisit and confirm the torque values to ensure they fall within the specified range. Any deviations should be addressed by making necessary adjustments.
10. Inspect for Leaks:
After completing the assembly, visually inspect the flange connection for any signs of leaks. A properly sealed SAE Code 62 flange should not exhibit visible fluid seepage around the flange joints.
11. Final Check:
To maintain the integrity of the seal over time, periodically monitor the SAE Code 62 flange connection during system operation. Implement routine maintenance practices to ensure continued reliability.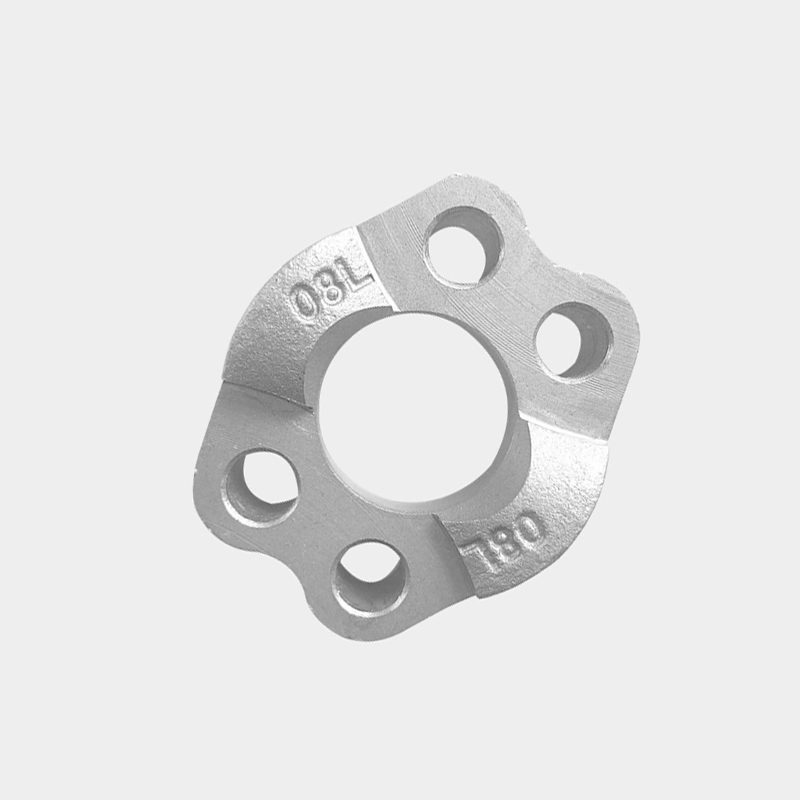 1. Working pressure of SAE code 61 series flange clamps is 3000 PSI, 3,5 MPa (35 bar) to 35 MPa (350 bar).
2. SAE Flange clamps dimensions are according to ISO 6162-1:2012. ISO Nominal Size: DN 13; DN 19; DN 25; DN 32; DN 38; DN 51; DN 64; DN 76; DN 89; DN 102; DN 127; Inch size: 1/2";3/4";1";1 1/4";1 1/2";2";2 1/2";3".
3. Material of SAE one-piece flange clamp is made of carbon steel C45, Stainless steel 304,316, or 316L.